Instead of giving your money to corporate brands, support the local community by shopping our many small business retailers. From fine jewelry to handcrafted furniture, Youngstown has a variety of unique stores to add to the list when planning your next shopping spree!
[Download Guide] Spend your weekend on an antique shopping spree! Not sure where to start? Download our Antiques Shopping Guide and discover your next one-of-a-kind find!
Antiques, Boutiques & the Totally Unique
When it comes to Youngstown's antique shops and boutiques, you'll find that they're as unique as their names suggest. We have multiple local shops dedicated to curating both one-of-a-kind antiques and the latest fashion trends.
Meander Hill Antiques & Gifts
Located in Austintown, Meander Hill is "a decorator's haven." This family-owned business specializes in Early American furniture, lighting, rugs, pictures and accessories. Since the store opened in 1965, the team has tirelessly searched for the perfect items so that their customers can find high-quality, one-of-a-kind period pieces.
Meander Hill
20 North Turner Road
Youngstown, Ohio 44515
Phone: 330-799-0138
Mr. Darby's Antique & Collectible Emporium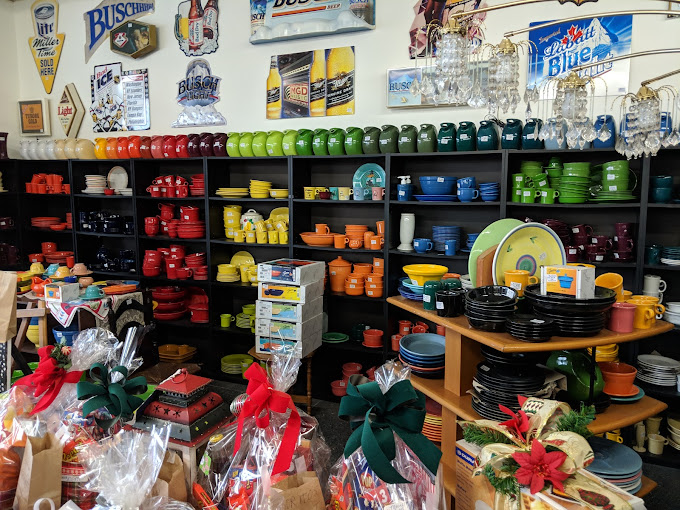 Antiques, collectibles, artwork and more are all available at Mr. Darby's Emporium! Located in Boardman, take a stroll through the 25,000 square feet of rare and unusual finds, spanning new creations to vintage pieces! Buy unique gifts – or treat yourself – with items you won't find anywhere else.
Mr. Darby's Antique & Collectible Emporium
8574 Market Street
Boardman, Ohio 44512
Phone: 330-953-3226
Wizard of Odds
Everything is on display at this spellbinding North Jackson treasure trove – glassware, jewelry and everything in between. Walk through seasonal and "everyday" displays year-round.
Wizard of Odds
10966 Mahoning Ave.
North Jackson, Ohio 44451
Phone: 330-538-0444
Home Again Consignment & Design
New items are in stock daily at Home Again Consignment, one of the Mahoning Valley's largest collections of relics, quality furniture and home decor. Established in 2012, this family-owned business maintains a 10,000-square-foot facility for antique lovers and collectors alike to find their treasures.
Home Again
7689 South Avenue 
Boardman, Ohio 44512
Phone: 330-245-4126 or 330-719-2090
Unique Boutique Youngstown
Dedicated to being a welcoming space for all, Unique Boutique Youngstown has new and used clothing, jewelry, minerals and more! This "unique" shop even accommodates special orders, meaning that you can tell them what you're interested in and they do all the work! (No payment is required for this service until you want to buy!)
Unique Boutique Youngstown
902 Elm Street
Youngstown, Ohio 44505
Phone: 330-799-7420
Spruce Home Decor & Gift Store
Spruce Home Decor and Gift Store is a beautifully designed retail shop where visitors can find unique merchandise and gifts galore. Whether you're searching for the perfect piece of home decor or are hoping to surprise a friend with a gift that shows you care, Spruce is the place to start!
Spruce Home Decor & Gift Store
1315 Boardman Canfield Road
Boardman, Ohio 44512
Phone: 330-503-9559
The Stone Trough
Tucked away on Route 45, just outside of Salem, Ohio, The Stone Trough is a renovated century barn filled to the brim with antiques, home decor, florals, soaps, one-of-a-kind gifts and more! Stop in to peruse their regularly updated seasonal decor or mark your calendar for one of their open house events (featuring 30+ vendors selling their handmade specialties). The barn area is also available for small weddings and gatherings.
The Stone Trough opens for the 2023 season on March 30th!
The Stone Trough
12244 Salem Warren Road
Salem, OH 44460
Phone: 330-337-8639
ivory & birch
You don't have to travel to a big city for great style — ivory & birch travels to fashion destinations like Paris, New York City and Atlanta to bring the hottest trends right here to the Valley! Shop jewelry, high-fashion clothing, home decor, gifts and more that are totally unique and on-trend.
ivory & birch
7631 Market Street
Boardman, Ohio 44512
Phone: 330-965-4772
La Ti Da Boutique
If you're looking for a stylish new outfit, La Ti Da Boutique in Poland, Ohio is the retail spot for you. Inventory is curated based on current trends instead of a specific age group. So, if you think the store's style looks different from the last time you stopped, it probably is! La Ti Da's style and inventory are always changing to match current design and fashion trends.
La Ti Da Boutique
850 E. Western Reserve Road
Poland, Ohio 44514
330-758-9900
Rep Your Favorite Local Businesses
In Youngstown, we take pride in our history and what makes us unique — but it doesn't stop there. Whether you want to rep your favorite sports team or some famous Youngstown foods, these stores are your next stop.
Youngstown Clothing Co.
Show off your Mahoning Valley pride with Youngstown Clothing Company! They design high-quality apparel that celebrates the history of Youngstown and everything that makes it special. Buy a t-shirt that highlights Youngstown State University or glamorizes infamous Youngstown must-haves: cookie tables, DiRusso's Sausage, Handel's Ice Cream, White House Fruit Farm donuts and more. Afterall, those things are what makes Youngstown Youngstown! Buy online or visit their storefront at the Southern Park Mall.
Youngstown Clothing Co. 
7401 Market Street #309A
Youngstown, Ohio 44512
Phone: 330-707-4449
Touchdown Gifts
Who doesn't want to represent their favorite sports teams? Touchdown Gifts, located in the Southern Park Mall, lets you shop sports apparel, decor and gifts from different teams – and different sports – all in one location. Cleveland Cavaliers, Pittsburgh Pirates, Cincinnati Bengals, whoever you root for, your team's gear is here.
Touchdown Gifts Inc. 
7401 Market Street #211B
Youngstown, Ohio 44512
Phone: 330-629-9288
Youngstown Harley-Davidson
Wear clothing from your favorite motorcycle brand while on the road with Youngstown Harley-Davidson. They have a vast inventory of Harley-Davidson motorcycles, parts, accessories, and a service department that ensures a smooth ride. Buy your bike at this local business, or bring it in for repair to get top-level service.
Youngstown Harley-Davidson
5700 Patriot Boulevard
Austintown, Ohio 44515
Phone: 330-505-2000
Shops for the Foodies
Lucky for you, our area has the best of the best when it comes to markets and locally owned grocery stores. Check out these spots, whether you're checking off your weekly shopping list or are in desperate need of visiting a bakery.
The Amish Market
The Amish Market is an indoor Amish-style market, open Thursday through Saturday, year-round. Shop Dutch Craft Furnishing for quality Amish-crafted furniture and home goods, and then take a food break at The Market Restaurant for Amish-style fare. Don't have time to sit down? Visit one of their bakery stands to take home fresh-baked goods, donuts, homemade candy, soft pretzels and more.
The Amish Market
6121 South Avenue
Boardman, Ohio 44512
Phone: 330-248-9933
White House Fruit Farm
No matter the season, White House Fruit Farm (located in Canfield, Ohio) is the place to be! As one of Ohio's top farm markets, many of their fruits and vegetables are homegrown and based on the current season. The bakery is known for its world-famous donuts, but you can also shop for delicious pies, jams, spreads, local honey, homemade fudge and a variety of deli meats (in addition to their renowned produce).
When visiting during the fall or Christmas holiday, be sure to stop in their Gift Barn for seasonal gifts and home decor.
White House Fruit Farm
9249 State Route 62
Canfield, Ohio 44406
Phone: 330-533-4161
Rulli Brothers
If you're looking for high-quality Italian specialties, Rulli Brothers is the place for you. This Italian gourmet market is a family-owned business that has been serving Youngstown since 1917 (when brothers Nicola and Frank first opened their doors after immigrating from Calabria, Italy). With two grocery store locations and over 40,000 items, you won't find another selection like Rulli's high-quality Italian imports and other grocery necessities. Visit one of the Rulli Brothers locations for a taste of Italy right here in the Valley.
Rulli Brothers — Boardman
8025 South Avenue
Boardman, Ohio 44512
Phone: 330-726-0777
Rulli Brothers — Austintown
4331 Kirk Road
Youngstown, Ohio 44511
Phone: 330-799-3477
Be Jeweled!
The Mahoning Valley is home to three multi-generation, family-owned jewelry stores. Each one is dedicated to providing the highest quality gems and jewelry with impeccable customer service.
Aebischer's Jewelry
Aebischer's Jewelry was founded in 1928 and has seen four generations of family jewelers. The Aebischer family takes pride in connecting with the community by supporting local schools and charities while offering some of the highest quality products to the Mahoning Valley.
Aebischer's Jewelry
68 South Main Street
Poland, Ohio 44514<Phone: 330-757-4685
Komara Jewelers
Komara Jewelers has had multiple storefronts since opening its first location in Struthers, Ohio back in 1948. In its 75 years of operation, this now third-generation family-owned business has provided the Mahoning Valley with stunning jewelry and trusted repair services for decades.
Komara Jewelers
3649 Canfield Road
Canfield, Ohio 44406
Phone: 330-793-9048
Cirelli Jewelers
Cirelli Jewelers is another family-owned business specializing in fine jewelry. Since 1947, they've maintained a tradition of providing high-quality metals, diamonds and gemstones to the Youngstown area. From custom-designed rings to simple battery replacement, no job is too big or too small at Cirelli Jewelers.
Cirelli Jewelers
5903 Market Street
Boardman, Ohio 44512
Phone: 330-758-0106
What Else Does Youngstown Have to Offer?
Local retailers are just the beginning of what makes the Valley so special. Live theater, local breweries, coffee shops galore, and the best pizza shops in the country all await you in Youngstown! For more information on locally owned shops in and around Youngstown – and everything else you can find here – visit Youngstown Live or follow us on social media!
https://visit.youngstownlive.com/wp-content/uploads/2023/03/Storefront-of-locally-owned-Youngstown-store.jpg
1536
2048
Tara Mady
https://visit.youngstownlive.com/wp-content/uploads/2021/06/Youngstown-Live-Logo.png
Tara Mady
2023-02-20 09:25:58
2023-07-19 10:49:45
18 Locally Owned Youngstown Shops to Visit