Summer's not just the season for outdoor concerts, swimming, and warm nights on the patio – it's also the time for tasty local produce from Mahoning County's many farmers markets.
When you buy your produce locally, you're not just helping a local food grower, or getting healthy fresh fruits and veggies, you're also doing good for the environment! Plus, many of the markets in Mahoning County also feature local art, baked goods, jewelry and more! Here's your list of the best Mahoning County farmers markets to check out this year:
White House Fruit Farm
White House Fruit Farm almost doesn't need an introduction. It's open seven days a week, 9am to 5pm Monday
through Saturday and 12pm to 5pm on Sunday. Apples are their signature crop, and they also grow strawberries, blueberries, peaches, nectarines, sweet corn, asparagus, tomatoes, peppers, squash, onions, cucumbers, eggplant, and pumpkins!
The deli stocks over 80 varieties of meats and cheeses, many of them made in Ohio. Their bakery serves a variety of delicious homemade breads, cookies and pies. And remember, it wouldn't be a trip to White House without grabbing a box of their heavenly donuts!
Aside from major holidays and the first week of January, White House Fruit Farm is open year round, so any time is a good time to stop out.
Angiuli's Farm Market
The main location of Angiuli's Farm Market is located at 9600 Columbiana-Canfield Rd., Canfield, OH 44406, but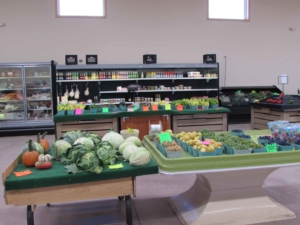 every summer you can also find satellite farm stands in different areas around Youngstown. This year, Angiuli's stands are located in Austintown (in the parking lot of Sleepy Hollow), Boardman (at the corner of Market Street and Wildwood), and Cornersburg on Canfield Road (in the Dollar General parking lot).
All stands offer fresh produce, but if you take a trip to the market's headquarters in Canfield, you'll also find an amazing selection of plants and herbs in the greenhouse, along with canning supplies, and local/Ohio-made goods. Angiuli's is open 9am to 6pm Monday through Saturday and 9am-5pm on Sunday.
Molnar Farms
Molnar Farms has been producing fruits and vegetables for four generations – everything from strawberries and tomatoes to their famous sweet corn. They also stock milk and cheese from local dairies, so be sure to try those, too!
Molnar Farms is open Monday through Friday from 9am to 6pm and Saturday from 9am to 5 pm. They are closed Sundays.
Northside Farmers Market
The Northside Farmers Market, at 901 Elm St., started in 2003 and is the oldest farmers market in Youngstown. It's open every Saturday from 10am to 1pm, and features produce from over a dozen local growers. There are also meats, local honey, jams, jellies, and pickles. The market runs from May through October.
Check the Northside Farmers Market Facebook page to get regular updates on the vendors and food trucks that will be there.
Austintown Township Park's Farmers & Artisan Market
The Austintown Township Park's Farmers Market is open on select Saturdays, from May to September, from 9am-2pm. It takes place in Austintown Township Park. Vendors sell locally-grown produce, home-produced food items and locally created artisan goods. Follow their Facebook page for announcements about the current season.
Four Seasons Flea & Farm Market
Like the name implies, Four Seasons Flea & Farm Market is open year-round, rain or shine, 8am to 4pm every
Wednesday and Sunday. There's no admission and parking is free, with space for up to 600 vendors!
Four Seasons has an ever-changing selection of produce and items, so it's a great reason to check back all the time. Get some lunch at one of the food trucks and make it a day! It's located at 3000 McCartney Road on Youngstown's East Side.
Rhodes Farm Market
Just south of Boardman at 12216 Columbiana-Canfield Rd. is where you'll find Rhodes Farm Market. It's a popular stop for locals to stop and get the best produce, as well as fresh flowers and dairy items. One of the major highlights is their deli, where you can get amazing meats and cheeses, and even grab a sandwich while you're there! It's a local all-in-one stop. Rhodes is open from 9am to 6pm, Monday through Saturday, and is closed on Sundays.
Keep Things Local AND Farm Market Fresh!
Buying local is one of the simplest things we can do to help out our community! With all of the farmers markets available throughout Youngstown and Mahoning County, you're never far from affordable produce grown by local farmers. Forget those big box stores and head out to a Mahoning County farmers market!
For more info on the area's many unique shopping opportunities, keep checking back to Youngstown Live!
https://visit.youngstownlive.com/wp-content/uploads/2022/07/farmers-market-in-Youngstown-copy.jpg
1080
1920
Tara Mady
https://visit.youngstownlive.com/wp-content/uploads/2021/06/Youngstown-Live-Logo.png
Tara Mady
2023-07-17 07:00:15
2023-07-18 13:19:46
Eat Fresh! Your Go-To List of Mahoning County Farmers Markets