Whether you're a high school student starting your college search or you're a parent whose teen is thinking about higher education, it's nice to get to know the places around the college or university you're interested in.
The Youngstown State University campus and its surrounding areas are rich with culture and history. So, why not make your Youngstown State University visit a little more fun and memorable with some extra stops while you're in town?
Fast YSU Facts
Whether you're visiting on your own or you're part of Penguin Preview Day (which is an open-house that includes campus tours), let's take a moment to get familiar with some of the basic YSU details. Founded in 1908, YSU has a variety of different programs for undergraduates, graduates and professionals: 115 majors, 40-plus graduate programs and four doctoral programs.
YSU is located at One University Plaza, in the heart of Youngstown, Ohio. Notable graduates include, but are not limited to, Dr. Amy Acton, actor Ed O'Neill, fashion designer Nanette Lepore, NFL quarterback and commentator Ron Jaworski, authors Christopher Barzak and David Lee Morgan, Jr., and journalist Simeon Booker.
There are five dorm facilities on campus, with many full-time, out-of-state students living in residence halls or student apartments. Total enrollment is around 12,800 and financial aid is available. If tuition assistance is needed, potential students can contact the admissions office or visit ysu.edu/tuition-financial-aid, which contains all of the information and forms necessary for scheduling your visit.
What's YSU Known For?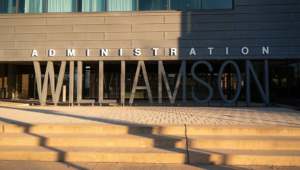 There are a host of reasons YSU is well-known and loved throughout the country.
State-of-the-Art Facilities
While all of YSU's schools have notable majors and accolades in their own right, the Williamson College of Business Administration is the university's newest academic building. It houses career management, the communication and professional sales lab, and even has a production space that produces sports broadcasts for ESPN+.
Athletics
Sports are a large part of the culture in Youngstown and Mahoning County, and YSU is no exception. YSU is an NCAA Division I school with nine men's varsity teams and 12 women's varsity teams. YSU has had four national football championships and 27 other conference titles since 1995.
YSU is known for its convenient location halfway between Cleveland and Pittsburgh, and is walking (or driving) distance from a variety of restaurants and opportunities for recreation.
Downtown Dining After Your Campus Tour
Not only is YSU known for its academics and sports programs, it's also surrounded by some of the best food and coffee options in northeast Ohio. It's worth noting that as both the campus and downtown continue to grow, there is construction. But, don't worry – there's ample space and smooth detours to get you where you're going!
On Campus Locations
In addition to the campus dining, students and visitors also enjoy Jamba Juice, Snack & Chill at The Cove, Dunkin' Donuts, The Den, Chick-fil-A and Christman Dining Commons while onsite. If you're at YSU for an afternoon campus visit, there's also a Chipotle within walking distance on Wick Avenue.
Avalon Downtown Pizzeria
Located on West Federal Street, Avalon Downtown Pizzeria is an Italian restaurant that's just a short drive south of YSU. It is a great place to go for lunch or dinner, and they have a wide variety of menu items.
The Federal
Also on West Federal Street, The Federal is a great place to grab a bite to eat. The menu offers everything from burgers and seafood to salads and appetizers – You'll definitely find something that suits your tastes!
Cassese's MVR
Cassese's MVR has been a Youngstown staple since 1927. In addition to their delicious Italian food, their menu also gives some fun nods to local celebrities (Tressel Tortellini), the YSU mascot (Penguin Burger Basket), Youngstown neighborhoods (Smoky Hollow Pizza) and the Cassese family (Carmine's Pasta). The MVR is located "below" the Wick parking deck on Walnut Street and is a favorite hangout of both locals and YSU students – when you visit, don't forget to leave time to play a round of bocce!
Bistro 1907
After visiting YSU for your campus tour, stay downtown in the beautiful DoubleTree Youngstown Downtown, which also conveniently houses Bistro 1907. This unique and classy American-style restaurant has an eclectic menu that includes one-of-a-kind entrees, sandwiches, burgers and desserts.
The Mocha House Youngstown
The Mocha House Youngstown is just a short drive (or charming walk) away from campus. In addition to its full menu (and breakfast), Mocha House is known for its cheesecakes – we promise you'll fall in love with any/all of them!
Charlie Staples BBQ
Southern barbecue is on the menu at Charlie Staples, located on Rayen Avenue. Charlie took ownership of the business in 1974, and never looked back! When you stop, you'll feel like you're stepping into New Orleans. The restaurant, which is currently fulfilling takeout and curbside orders, is known for its sauce, and it's easy to see why Valley residents have raved about this delicious food for decades. So place your order and head on over to Wean Park!
Gringos
Newer in the grand scheme of downtown restaurants, Gringos has quickly become a local favorite. Known to be a "melting pot of good people, rich culture and unbridled spirit," Gringos is THE Youngstown restaurant when it comes to tacos. Even better, it's located on pedestrian-friendly Phelps Street Gateway.
Places to Explore Over a Weekend College Visit
Besides the diverse variety of restaurants available to satisfy your cravings, downtown Youngstown also has numerous entertainment opportunities centered around the arts, history and even hands-on science.
Covelli Centre and The Youngstown Foundation Amphitheatre
Since 2005, The Covelli Centre has been hosting world-famous entertainers (like Elton John, Carrie Underwood and Trans-Siberian Orchestra) and sporting events including professional wrestling and championship boxing matches (even local tournaments). It's also home to the United States Hockey League's Youngstown Phantoms. Located on East Front Street, The Covelli Centre is a quick walk or drive from the heart of downtown and the YSU campus.
As one of the most recent additions to downtown Youngstown, The Youngstown Foundation Amphitheatre is an outdoor entertainment venue known for its music festivals and popular, nationally recognized musical acts. The Amp (as it's often called) is located in Wean Park on South Phelps Street. It holds 4,800 people, and hosts popular acts like the Doobie Brothers and Nelly.
Ward Beecher Planetarium
Named after Ward Beecher, a former YSU president, the planetarium was built in the late 1960s on the YSU campus. It's currently under construction after a fire destroyed the space earlier this year, so check back later in 2023 to see what kind of stargazing you can do.
Youngstown Historical Center of Industry and Labor
Youngstown is rich in history, which is on display at the Youngstown Historical Center of Industry and Labor, located on West Wood Street. Enjoy the chronicles of the once-hot steel industry that helped sustain the city for years while you look through artifacts and get an idea of the heyday that was.
John J. McDonough Museum of Art
While you're strolling through the YSU campus, stop at the McDonough Museum on Wick Avenue, located between Bliss Hall and the Wick Deck. Different types of art are on display, which includes staff, student, alumni and curated pieces.
The Butler Institute of American Art
Across from McDonough is The Butler Institute of American Art, a place that is truly unique amongst museums. It exists to collect and preserve works of art in all media created by citizens of this country. There are permanent exhibitions, limited-time displays and a technology section in addition to free admission.
Arms Family Museum
Step back in time at the Arms Family Museum, which is just a quick stroll up the road from The Butler Institute of American Art. The Arms Family Museum is known for its expansive collection that dates from prehistoric times to the 20th century. Plus, while you're there, you can get a glimpse of the richness of the former mansion the museum is located in – a magnificent 1905 Arts and Crafts-style masterpiece.
OH WOW! The Roger & Gloria Jones Children's Center for Science & Technology
If you have younger children making the trip with you, don't hesitate to visit the OH WOW! Children's Center for Science & Technology during your travels! All things science are on full display at OH WOW!, located on Federal Street, including opportunities for hands-on experimentation. Normally, when it comes to museums, children are asked to look and not touch. But at OH WOW!, interaction is encouraged! Check out their colorful, stem-based exhibits, EDUtraining programs and watch your kids have a blast while learning.
Check Out Youngstown Live for More Activities
There you have it! A list of places to experience after you take your Youngstown State University campus visit. Don't forget to check out our blogs and website for events, activities and everything else going on in Youngstown. We can't wait for you to get to know the 'Yo'!
https://visit.youngstownlive.com/wp-content/uploads/2023/04/Students-walking-on-the-Youngstown-State-University-campus.-.jpg
877
1560
Tara Mady
https://visit.youngstownlive.com/wp-content/uploads/2021/06/Youngstown-Live-Logo.png
Tara Mady
2023-03-10 15:49:11
2023-04-28 15:30:18
Make the Most of Your Youngstown State University Campus Visit – Check Out These Downtown Hot Spots!