If you're on the hunt for some fun, free things to do in Youngstown and the Mahoning Valley, look no further! We have a great list of activities that are free of charge and perfect for the entire family!
Mill Creek MetroParks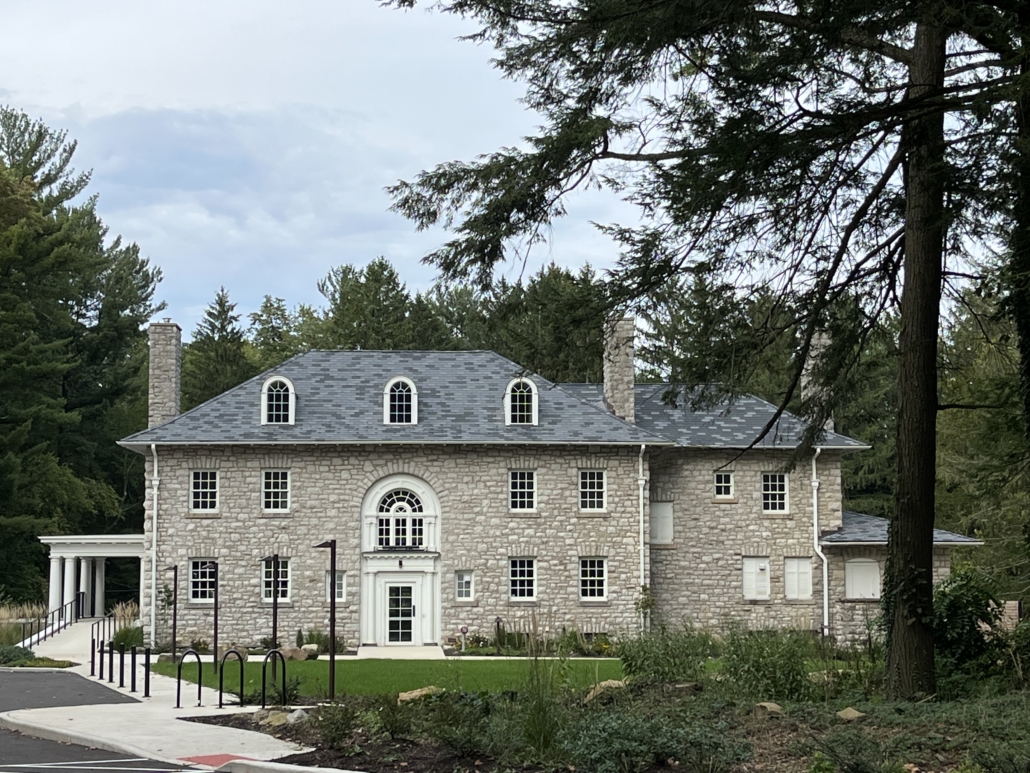 The 4400 acres of green space within Mill Creek MetroParks has been a getaway for residents of Mahoning County and beyond for over 100 years – it's one of the most beautiful metropolitan parks in northeast Ohio! Mill Creek MetroParks is home to over 45 miles of hiking and biking trails, boating, and disc golf and is just minutes away from the restaurants and activities in Downtown Youngstown.
One of the most scenic trails in all of Mill Creek MetroParks is the Gorge Trail, located near the historic Lanterman's Mill and the Mill Creek waterfall, known as Lanterman's Falls. This award-winning trail is bordered by sandstone cliffs on one side and Mill Creek on the other side.
Fellows Riverside Gardens
Fellows Riverside Gardens is located at the extreme north end of Mill Creek MetroParks. This twelve-acre public garden attracts over 400,000 visitors a year, and features an amazingly diverse selection of flowers and plant life. There are also special displays during all four seasons, so it's a perfect destination any time of the year.
Inside the D.D. and Velma Davis Education & Visitor Center, visitors to Fellows Riverside Gardens can enjoy a meal at the Garden Cafe by Kravitz, browse the horticultural library, or visit the gift shop.
123 McKinley Ave. 
Youngstown, OH
44509
MetroParks Bikeway
The MetroParks Bikeway is an 11-mile paved biking trail that runs from Canfield to Austintown. The trail lets bikers, hikers, and skaters enjoy nature while also getting great exercise. It has a gentle elevation increase of 180 feet, so you don't have to be a professional biker to enjoy great family fun on the Bikeway!
Ford Nature Center
The Ford Nature Center recently underwent a four million dollar renovation, and is slated to reopen April 22, 2023 with all-new interactive exhibits, including petrified wood and fossils found during the construction. Check back to the Ford Nature Center page to stay up-to-date on the progress of the renovations!
The Walnut Grove – Hine Memorial Fund Accessible Playground
In 2013, a group of residents and business leaders got together with the idea of creating the area's first all-inclusive playground for children of all ages and abilities. They formed The Walnut Grove – Field of Opportunity nonprofit organization to raise funds to begin construction on the one-acre Hine Memorial Fund Accessible Playground in Canfield.
It really is a sight to behold! Spend the afternoon with your little ones, enjoying the sunshine and play areas. The playground includes an inclusive play area, nature trails and 20 acres of natural wetland (plus a bridge that connects to the Mill Creek MetroParks Bikeway).
Work continues on the playground, which will eventually include restroom facilities, a rentable pavilion, and indoor play area!
8800 Columbiana-Canfield Rd.
Canfield, OH 44406
Boardman Park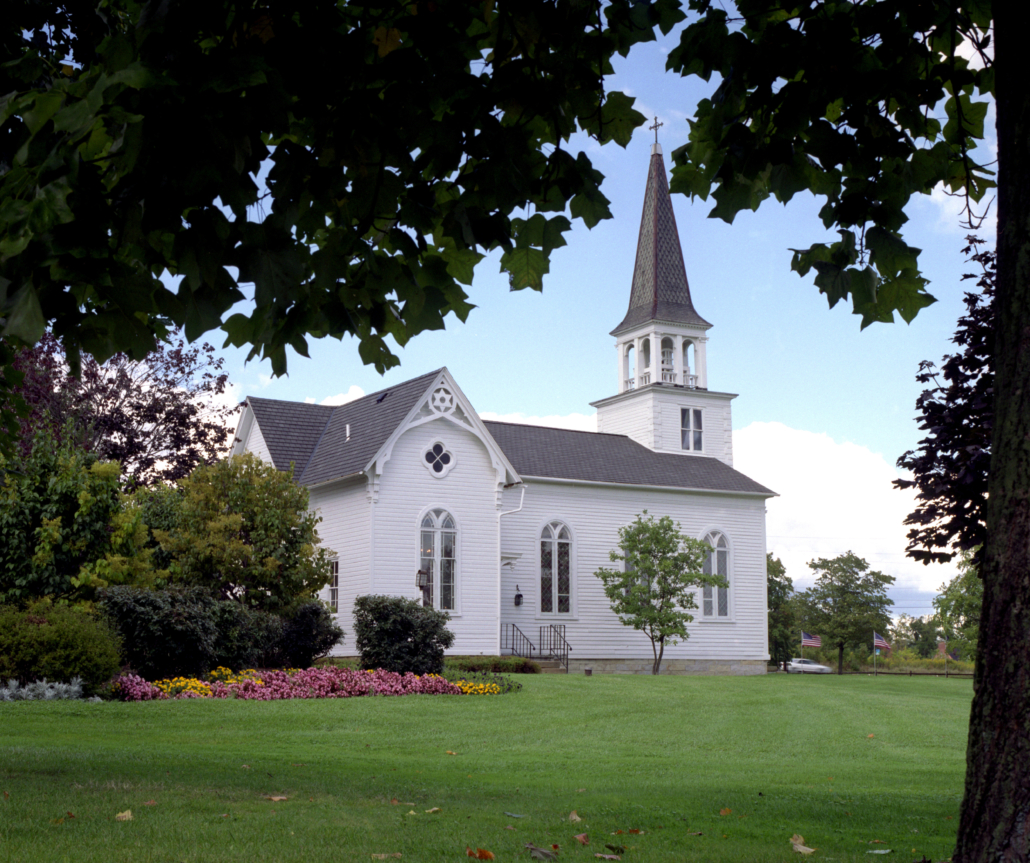 Boardman Park is 243 acres of recreational parkland right in the heart of Boardman. It boasts paved biking trails as well as pedestrian-only trails surrounded by natural habitat. Free amenities also include tennis courts, a disc golf course, sand volleyball courts, and two playgrounds!
375 Boardman-Poland Rd.
Boardman, OH 44512
Wean Park and the Robinson-Shuba Statue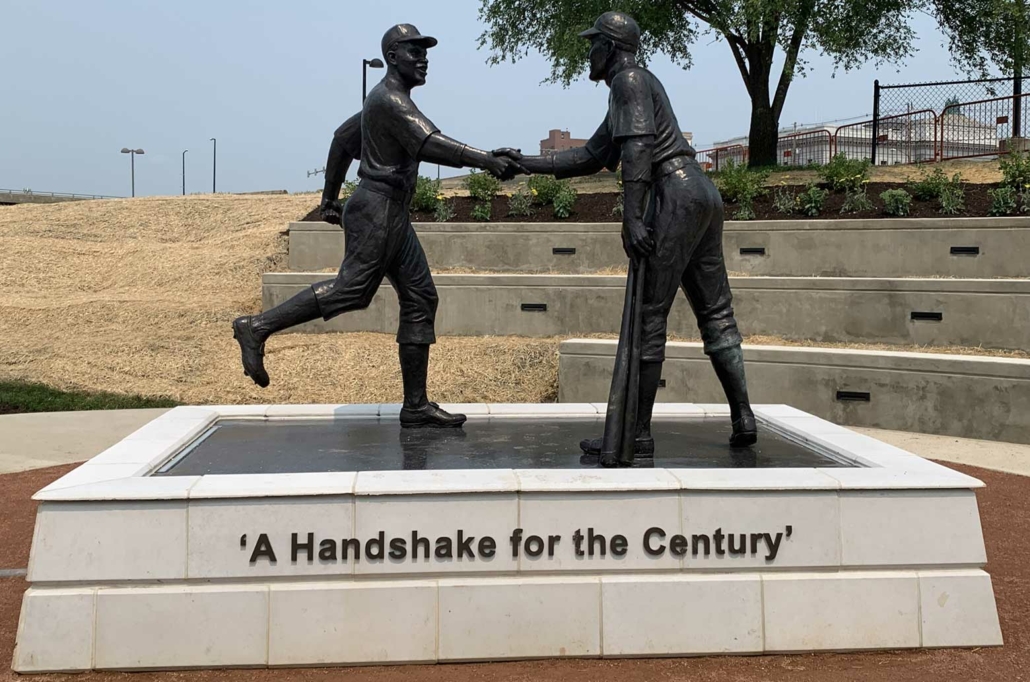 Just outside of Downtown Youngstown in Wean Park, the newly installed Robinson-Shuba statue immortalizes the historic 1946 handshake between Jackie Robinson, the first professional baseball player to break the color barrier, and George Shuba, his teammate and Youngstown native.
Wean Park is also a great place for a summertime picnic or a meet up with friends. In warm weather months, Wean Park is known for its free Summer Movie Series. After all, what's better than taking in a family-friendly movie under the stars?
201 S. Phelps St.
Youngstown, OH 44503
The Ward Beecher Planetarium
Youngstown State University's Ward Beecher Planetarium is, quite literally, a star-studded extravaganza! The planetarium hosts regular shows from September – May that are free and open to the public, with a wide range of themes. There are seasonal holiday-themed shows in December, and special shows for kids based on the Harry Potter books. Check The Ward Beecher Planetarium website for their full schedule!
** Due to the recent fire at the Ward Beecher Planetarium, all public programs have been canceled through May of 2023. Check the Ward Beecher Planetarium Facebook page for updates.
100 Lincoln Ave.
Youngstown, OH 44555
Clarence R. Smith Mineral Museum
You can have a great time finding out about the workings of our Earth at the Clarence R. Smith Mineral Museum, located on the first floor of Moser Hall on the Youngstown State University Campus. See minerals from all over the globe, learn about how they are formed and how they can be used in various industries, from construction to jewelry making. Don't miss the dazzling display of fluorescent minerals, too!
Located in Moser Hall, First Floor
134 Lincoln Ave.
Youngstown, OH 44555
The Butler Institute of American Art
Youngstown's very own world-renowned art museum was the first museum in the United States dedicated exclusively to American art. The Butler's art galleries have works by notable artists like Winslow Homer, Norman Rockwell, Edward Hopper, Mary Cassatt, Georgia O'Keeffe, Jackson Pollock, Andrew Wyeth and Albert Bierstadt. There are also examples of Native American art, and an entire wing, The Beecher Center, dedicated to art and technology.
There is a new addition scheduled to be open in early 2023: The Bacon Addition will add 3,810 square feet of gallery space and will be home to a collection of large-scale kinetic art from the David Bermant Foundation of California. Visiting The Butler is free; however, donations are always accepted and appreciated!
524 Wick Ave.
Youngstown, OH 44502
Enjoy the Free Fun Around Youngstown!
Our parks, museums, and historic sites offer an abundance of free things to do in Youngstown, Ohio for everyone to enjoy. The stops listed above are great ways to spend time in between other activities like concerts, sporting events, visiting local breweries or dining at our many amazing restaurants! Make sure you keep Youngstown Live at the ready when you're looking for the best things to do throughout Youngstown and Mahoning County.
https://visit.youngstownlive.com/wp-content/uploads/2023/01/Mill-Creek-MetroParks-Hiking2-scaled.jpg
1433
2560
Tara Mady
https://visit.youngstownlive.com/wp-content/uploads/2021/06/Youngstown-Live-Logo.png
Tara Mady
2022-12-14 14:31:10
2023-04-04 09:00:57
Free Things To Do in Youngstown