Now that the weather is warmer, it's the perfect time to unplug, get outside and explore all that Mahoning County has to offer.
From camping near some of Ohio's best lakes and rivers to hiking along scenic trails, there are outdoor activities in the Youngstown area for young and old alike. So, if you're ready for some family fun or are just looking for a new summer adventure, read on to see why the Mahoning Valley should be at the top of your list for outdoor recreation!
Mill Creek MetroParks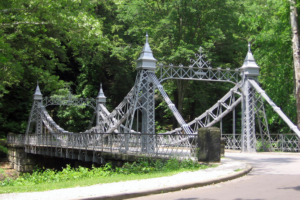 Mill Creek MetroParks sprawls an impressive 2,658 acres, with countless pockets of recreational areas and over 45 miles of trails. It's known as the green jewel of Youngstown and for good reason!
Historic Landmarks
Pioneer Pavilion, the larger-than-life stone parapet bridge, and the silver suspension bridge (also known as the Cinderella or Princess Bridge) are just some iconic places throughout the park. And, let's not forget the Lily Pond! All are surrounded by walking trails, so when you visit, plan part of the day for a relaxing hike or quick picnic.
Ford Nature Center
Having undergone an extensive $4 million renovation, this historic former home of the Ford Family has been totally transformed. It now offers interactive educational exhibits and a bird observation room inside, as well as a native wildflower meadow and rooftop garden. The Axtman Trail for all people is a totally accessible paved trail, and includes educational signage. Be sure to stop in the gift shop for your Mill Creek swag and nature inspired gifts.
James L. Wick Recreation Area
There's so much to do in this beloved, spacious part of the park. Wick's 65 acres include areas to enjoy volleyball, soccer fields, tennis, Dek hockey, baseball and softball fields, batting cages, football fields and luscious green space to fly kites. The Juliana Kurinka Children's Play Area offers four play areas for children of all ages. There's also a par 3 golf course.
Fellows Riverside Gardens
On weekends from spring to fall, expect to see countless brides getting their pictures taken in the perfectly manicured spaces of this stunning public garden. While you're here, enjoy two scenic overlooks – one with city views to the north and one overlooking Lake Glacier to the south. Also onsite, the D.D. and Velma Davis Education & Visitor Center offers a gift shop, library and charming cafe offering scenic views on the terrace.
Lanterman's Mill
Get ready to step back in time while you make your way to Lanterman's Mill. Built in the 1840s, this gristmill is still functional today, grinding corn, wheat and buckwheat. You can take home a bag from the gift shop! Step onto the observation deck for a breathtaking view of waterfalls and greenery, and walk across the Covered Bridge. From the Mill, you can hike the popular and scenic East and West Gorge Trails that take you past Umbrella Rock and the Suspension Bridge.
MetroParks Farm
Located in Canfield, the MetroParks Farm includes an archery range, disc golf, ponds where you can fish, seasonal animal barns and so much more. The Farm also serves as a trailhead for the 11-mile paved MetroParks Bikeway, enjoyed by hikers, skaters and bicyclists.
Mill Creek Golf Courses
What would outdoor recreation be if we didn't talk about golf? Mill Creek Park has three 18-hole courses – the North Course and the South Course (which are both Donald Ross designs) and a more intimate Par 3. Golfers of all skill levels are sure to enjoy these courses!
Yellow Creek Park
Yellow Creek Park includes 76 acres located off Lowellville Road in Struthers. It's operated by Mill Creek MetroParks and offers opportunities for hiking, fishing, tennis, basketball and even a game of horseshoes. For those who are hitting the trails, make sure you keep an eye out for the historic Hopewell Furnace site, which is accessible when creek levels are low.
Go Camping
Sure, the greater Youngstown area (and parts of Mahoning County) are known for their bustling entertainment spots, but there are also a handful of places to get away from the rush of it all and go camping.
Lake Milton/Berlin Lake KOA
This friendly, family-oriented campground offers primitive spots, RV sites, cabin rentals, glamping tents and even a covered wagon! Lake Milton/Berlin Lake KOA is located at 15487 Creed Road in Lake Milton.
Western Reserve Park RV Resort & Campground
Located at 10580 W. Western Reserve Road in Canfield, this family-owned campground offers all sorts of fun, from themed weekend events to everyday outdoor activities.
Mill Creek Campground
Whether you like roughing it in a tent or camping in comfort in an RV, all are welcome at Mill Creek Campground in Berlin Center, located at 7400 Bedell Road. The site, which is located along the shore of Berlin Lake, offers 295 sites (100 of which have electric hookups).
Downtown Youngstown
You might not realize it at first, but downtown Youngstown has some beautiful green spaces that offer up fun outdoor activities during the warmer months.
Wean Park
Listen to a national act at the Youngstown Foundation Amphitheatre, walk Huntington Bank Community Alley, visit the Robinson-Shuba commemorative statue or take a group photo at the YOUNGSTOWN sign (with the cityscape behind you).
Youngstown Flea
This indoor/outdoor market occurs once a month at 365 E. Boardman St. and has quickly become one of the most popular places in the Valley. In addition to its vendors, artisans and food trucks, Youngstown Flea also holds free yoga once a month (#FreeYogaAtTheFlea), has a great outdoor space for yard games and is pet friendly.
White House Fruit Farm
Open year-round, White House Fruit Farm in Canfield is known for its delicious donuts and fresh produce (much of which is grown on the farm). Visit the Budgie Barn and feed little birds, cut your own sunflowers during the summer season, let the kids have fun in the play areas or simply sit by the pond and enjoy some of the goodies you bought in their market.
Fresh Air in the Parks
The Youngstown area's many parks are just a small part of what makes the Valley so great! We have both state parks and municipal parks in Mahoning County, in addition to Mill Creek MetroParks (mentioned earlier), all easily accessible no matter where you're coming from.
Lake Milton
Known for boating and fishing, Lake Milton State Park also has a beach, showers, basketball and volleyball courts, a playground and lots of picnic areas. Lake Milton has nearly 1700 acres of the best recreational water in Ohio. A 600-foot beach with showers, playground, picnic areas and a newly opened Storybook Trail (at the north end of the beach) is a popular place to cool off during the summer months.
Berlin Lake
Fish walleye, bass and crappie at Berlin Lake, a wildlife management area. Multiple boat launches allow for fishing enthusiasts and kayakers alike to access the lake, which takes up nearly 3,600 acres (in addition to the 8500 acres of land, 4900 of which are available for public hunting).
Austintown Township Park
Concerts, a dog park and playground are all part of Austintown's beloved 206-acre park. Green spaces include natural grasslands, streamside forest, ravines, Corll Meadows and the one-acre Yeager Pond with observation deck.
Boardman Township Park
Four miles of trails wrap around nearly 300 managed acres in the heart of Boardman. Boardman Park's open-air pavilions, the historic St. James Meeting House (which is a popular wedding venue) and the larger-than-life Kids Town Playground are just some of the popular attractions this unique space has to offer (not to mention cornhole and a disc golf course!).
Paddle the Mahoning River!
The revitalization of the Mahoning River has opened up new opportunities for recreational paddling. Use the launch area in the City of Struthers and canoe or kayak to Riverfront Park in the Village of Lowellville without obstructions. Enjoy a scenic float past the remnants of the industrial giants that once lined the river, all while taking in the wildlife and waterfowl.
Get Out and Explore Youngstown!
There's plenty of fun in the great outdoors in every corner of the Youngstown area. Whether you're an avid hiker or are in search of a family-friendly outdoor activity, visiting some of these unique locations will make this summer the most adventurous one yet. Explore trails, waters, forests and more with friends and family and have the time of your life!
Now, get up and go explore Youngstown this summer! Looking for help when it comes to planning? Dive deeper into Youngstown Live for even more information on local attractions and the fun activities that are perfect for summers in Ohio.
https://visit.youngstownlive.com/wp-content/uploads/2023/06/People-enjoying-the-outdoors-at-Mill-Creek-Park.jpg
1040
1560
Tara Mady
https://visit.youngstownlive.com/wp-content/uploads/2021/06/Youngstown-Live-Logo.png
Tara Mady
2023-06-01 10:44:46
2023-06-05 10:02:50
Get Some Fresh Air! Fun Outdoor Activities In and Around Youngstown, Ohio!