A trip to Youngstown, especially in the summer, just isn't complete without a stop at one of the six Handel's ice cream shops in Mahoning County. And this month, our beloved brand celebrates its 75th Anniversary! Celebrate with us by taking our special ice cream personality quiz.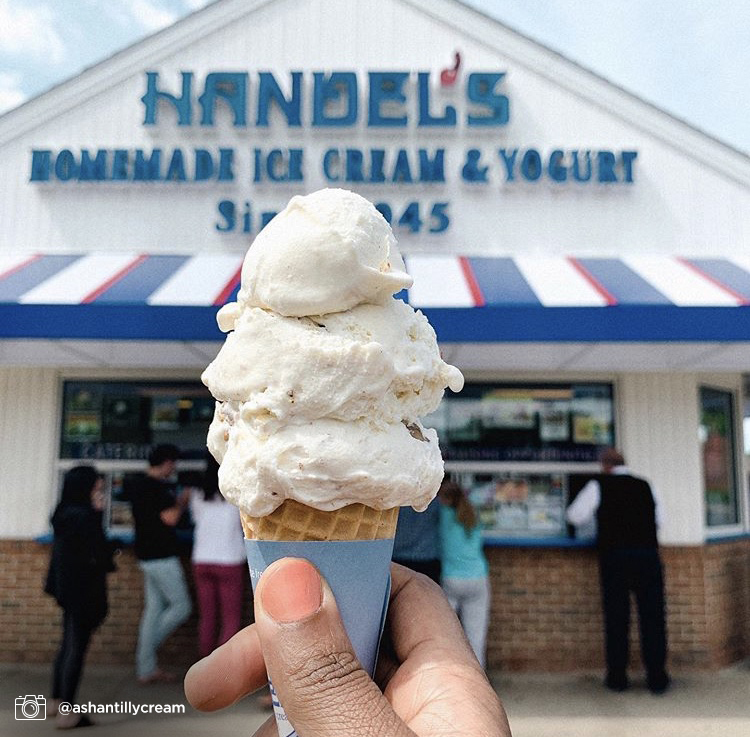 75 Years of Handel's
On a hot summer day in July 1945, Alice Handel began serving ice cream out of her husband's gas station in Youngstown, Ohio. Her first batches were made using old fashioned recipes with fresh fruit she picked from her own backyard. The flavors were an instant hit and today, Handel's has grown to include locations in 10 states across the country, serving up over 100 flavors of ice cream and yogurt.
The Facts Behind the Flavors
Believe it or not, the same part of the brain that is responsible for food preference (the limbic lobe) is also responsible for your personality traits. Because of this, quite a few studies have actually shown a correlation between tastes in food and personality types. Do you think the same is true when it comes to our favorite Handel's ice cream flavors?
Take the Quiz
Keep track of your points after each answered question. Once you've answered them all, add up your points and match your total with your ice cream flavor below!
Which adjective best describes your personality?
1 – Unpredictable
2 – Chill
3 – Flirty
4 – Confident
5 – Bold
Describe your perfect weekend.
1 – Booking a last minute long-weekend trip to another city
2 – Relaxing on the couch with a good book and can of Penguin City Beer
3 – Romantic date to dinner and the movies
4 – Discovering new wines at Mahoning County's 5 wineries
5 – Going on a challenging hike through Mill Creek Park
What's your ultimate vacation destination?
1 – Cabin in the woods
2 – Staycation with the family
3 – On a beach with your special someone
4 – Extended stay at a theme park
5 – Road tripping
What type of movies do you like to see?
1 – Comedy
2 – Mystery
3 – Romance
4 – Drama
5 – Action
Pick a color.
1 – Yellow
2 – Pink
3 – Purple
4 – Green
5 – Red
Your Ice Cream Flavor
5-9pts | Classic Vanilla
As a vanilla ice cream lover, you tend to be an impulsive risk-taker that prefers to rely on your own intuition more than logic when it comes to making decisions. You also have a knack for maintaining successful close relationships.
10-14pts | Strawberry Cheesecake Chunk
Strawberry and berry ice cream lovers in general tend to have Type B personalities – you're easygoing, tolerant and introverted. You take time to reflect on your life and remain thoughtful of others. Time spent alone and with close family are most important to you.
15-19pts | Chocoholic Chunk
As a fan of chocolate ice cream, you're most likely flirtatious and charming. While sometimes dramatic, you love to be the life of the party. Excitement and good vibes follow you wherever you go!
20-24pts | Mint with Oreo
Mint ice cream lovers are ambitious and confident. You know what you want and you aren't afraid to argue with others to achieve it. You have zero tolerance for nonsense – some might even call you stubborn. Mint ice cream fans also tend to save money when they can.
25pts | Heavenly Hash
Fans of Heavenly Hash, AKA smooth chocolate ice cream blended with chocolate covered peanuts, chocolate chips and marshmallow ripple, are aggressive and engaging people. Although sometimes intense, you still have a knack for listening to others when they need it most. You also pride yourself in being goal-oriented and love indulging in the finer things in life.
You've taken our quiz (how'd we do?), now it's time to go get some ice cream! Click here to find a Handel's location near you.
For more details on things happening in Mahoning County, check out our Facebook page or website.
https://visit.youngstownlive.com/wp-content/uploads/2020/07/Cover-2.jpg
720
1500
Tara Mady
https://visit.youngstownlive.com/wp-content/uploads/2021/06/Youngstown-Live-Logo.png
Tara Mady
2020-07-07 10:50:52
2022-01-31 15:21:11
Which Handel's Flavor Are You? Take Our Quiz!