Soup is a favorite around the globe, especially in colder months. To those of us in northeast Ohio, soup is the ideal wintertime comfort food! So, where can you go to get the best soup in Youngstown, Ohio? Let's find out!
Aladdin's Eatery
Aladdin's is well-known for its Middle Eastern specialties, but it's also an amazing place to stop for soup, especially if you're looking for vegetarian or vegan options! Aladdin's offers traditional lentil soup, vegetarian chili, half lentil half chili, and their special "V-Nine," which is made using nine different vegetables!
Aladdin's Eatery
7325 South Ave.
Boardman, OH 44512
Pho Saigon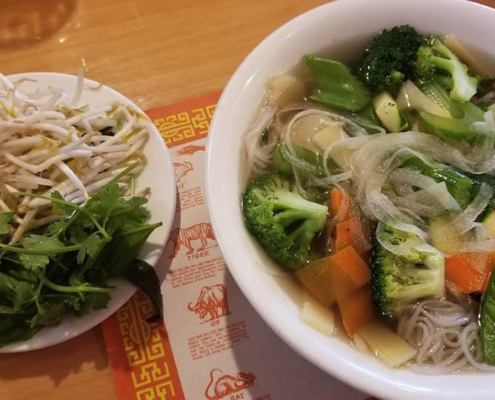 If you're looking for something out of the ordinary, try the Chinese and Vietnamese cuisine at Pho Saigon. They have the staple Chinese soups, like hot and sour, wonton, and dumpling. But, they also have pho, which is Vietnamese soup that you may not be familiar with. It's a meal in itself! Pho comes with noodles in a rich, meaty broth, and you can order it with beef, chicken, or Vietnamese meatballs. Each soup comes with bean sprouts and jalapenos as a garnish.
Pho Saigon
6532 South Ave.
Boardman, OH 44512
Bistro 1907
Located in downtown Youngstown, Bistro 1907's specialty is modern American-style dining. Their menu covers the full range of options (entrees, sandwiches, burgers, and desserts), but their soups are something special. Try their smooth, creamy tomato bisque or place your order for a 24-hour beef broth and caramelized onion soup with sourdough and Swiss fontina gratin. Or, you can simply go with Bistro's seasonal soup of the day! No matter what, you'll leave there wanting more!
Bistro 1907
44 E. Federal St.
Youngstown, OH 44503
Scarsella's Restaurant
Scarsella's is a family-owned Italian restaurant and a staple of Youngstown dining since the late 1950's. Now, in its third generation of ownership, Scarsella's has Italian soups made from tried-and-true family recipes. First, there's the wedding soup, which has Italian greens, mini meatballs, and an egg drop in a light chicken broth. Then there's the pasta e fagioli, which has white beans, homemade pasta and a richly seasoned tomato broth. Stop by and have a taste of Scarsella's family tradition!
Scarsella's Restaurant
4151 Market St.
Boardman, OH 44512
Cassese's MVR
Another longtime family-owned Youngstown restaurant, Cassese's MVR has been a pillar of Youngstown's restaurant scene since 1927. Their menu covers an extensive selection of Italian family favorites and pizzas, but, we're here for the soup, right? Try a cup or bowl of their famous homemade wedding soup, or get a quart for takeout! There are also daily soup specials, just ask and see what's ready!
Cassese's MVR
410 N. Walnut St.
Youngstown, OH 44505
The Mocha House Boardman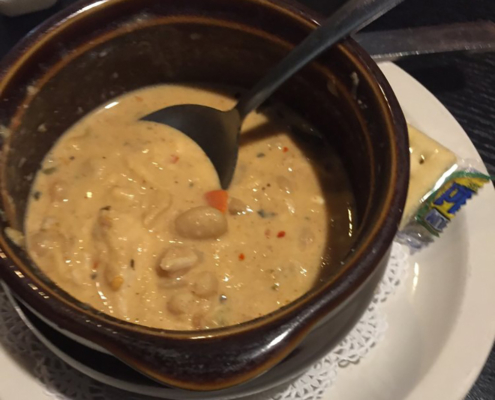 While it's known for breakfast and some pretty amazing cheesecake desserts, The Mocha House – Boardman (located right off of Boardman Poland Rd. in the Tiffany Plaza) also has a full menu, which includes some of the best soups you can find! Try their wedding soup, seasonal Mocha House chili, or Linda's award-winning white chicken chili! There's also a soup of the day, so make sure to ask when you visit!
The Mocha House
7141 Tiffany Blvd.
Poland, OH 44514
Stonebridge Grille & Tavern
Stonebridge Grille & Tavern is a casual American-style family restaurant with a menu filled with modern versions of classic favorites. Their soups are scratch-made every day, and are basically the perfect comfort food. Stonebridge features heart-warming chicken noodle soup, wedding soup (of course), French onion, and lobster bisque.
Stonebridge Grille & Tavern
1497 Boardman-Canfield Rd.
Boardman, OH 44512
Napa Grocery
Napa Grocery is a combination of a restaurant, pizzeria, and grocery store, which means there's plenty to explore when you go there! Napa Grocery's mouth-watering menu has a rotating selection of scratch-made soup, so be ready for a surprise when you go!
Napa Grocery
4350 Boardman-Canfield Rd.
Canfield, OH 44406
Zoup! Eatery
Just like their name implies, Zoup does soup… and a lot of it. Zoup!'s soups vary by location and change daily; they include favorites like chicken noodle soup and unique tastes like harissa cauliflower and northern Indian lentil. Besides soups, Zoup also offers deli-style subs, mac and cheese, salads, and grain bowls.
Zoup! Eatery
1315 Boardman-Canfield Rd.
Boardman, OH 44512
Warm Up with a Cup
Our area has plenty of spots to get the perfect cup of soup, guaranteed to take the chill out of your bones during the cold months. Check them off your list one by one.
But, if you're looking for even more than the best soup Youngstown, Ohio has to offer, you'll find all the info you need right here at Youngstown Live (your go-to resource for everything going on in Youngstown and Mahoning County). Be the first to know about concerts, events, restaurants, and more!
https://visit.youngstownlive.com/wp-content/uploads/2022/11/Selection-of-different-soups-available-in-Youngstown..jpg
1040
1560
Tara Mady
https://visit.youngstownlive.com/wp-content/uploads/2021/06/Youngstown-Live-Logo.png
Tara Mady
2022-10-20 21:21:50
2022-11-14 16:22:46
The Best Soup Spots In Youngstown, Ohio